Articles
/
Malta & Gozo
/ Diving in Malta, let's dive right in!
Malta & Gozo
Diving in Malta, let's dive right in!
Scuba diving in Malta, or how to discover an underwater paradise.
In this article, you can discover, important and relevant facts about diving in Malta, such as information on dive schools, where to book dives and rent good equipment, dive sites, conditions for scuba diving in Malta as well as when is the best time for diving in Malta and much more. It can also help you figure out where to find accommodation during your stay since we provide you with an overview of the most relevant dive spots and where they are located. Hopefully, this article will help you pick Malta as your next diving destination and for your next underwater adventure.
5 Unmissable Facts about Diving in Malta.


Diving in Malta means enjoying more than 200 dive sites.

More than 40 dive schools.

Some of the clearest waters in the world.

Visibility of 30 metres down year-round.

Average water temperature year-round of 18°C.


Scuba diving and dive centres in Malta and Gozo.
Situated in the middle of the Mediterranean, the Maltese archipelago offers fantastic diving and a plethora of dive centres. It is easily accessible from all over Europe. It is only a three-hour flight away from London as an example. Around the three islands — Malta, Gozo, and Comino — the water ranges from 16 to 25°C, and offers some of the best visibility anywhere in the world, throughout the year. Trust me there is a dive shack and scuba diving spot pretty much off any beach on Malta and Gozo; you will be astounded.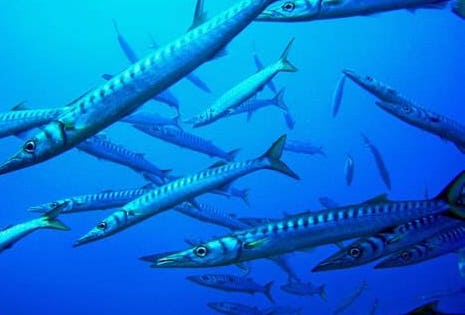 A dive for every diver.
Geographically speaking the majority of the dive sites and dive schools can be located in the northern side of the archipelago, as seen on the map below with fewer in the south and centres of the two main islands, Malta and Gozo. Dive centre locations to mention are in places such as St. Paul's Bay, Cirkewwa, -a key point between Malta, Comino and Gozo by the way -, St. Julian's, Bugibba and of course Marsalforn on Gozo. Below we provide you with our in-house selection, to help you explore your dive school options and help you with your dive shop decision.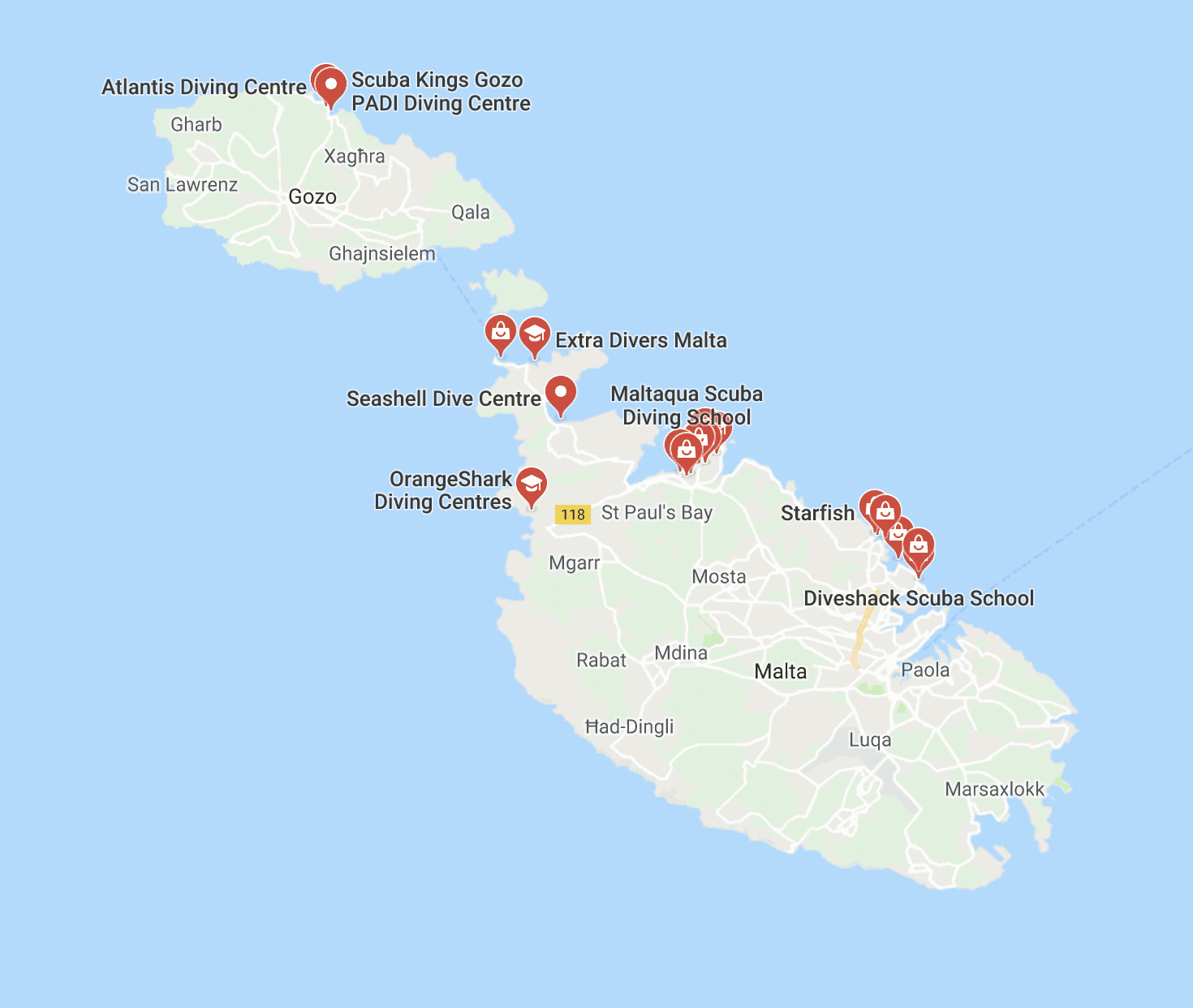 Selection of Dive Schools on Malta & Gozo.
Our choice of dive schools tries to be unbiased, but the list should not miss the following scuba diving schools in Malta and Gozo. This selection provides you with dive centres across the islands, so you get a broader idea of what is at your reach dive wise on the islands.
Bezz Diving Malta at Cirkewwa.

Scuba King at Marsalforn on Gozo.

Buddies at Bugibba.

Starfish at St. Julian's.

Atlantis at Marsalforn on Gozo.

Extra Divers Malta at Cirkewwa.

Maltaqua (one of Malta's oldest) at St. Paul's bay.

Gozo Diving (one of Gozo's oldest) at Xewkija on Gozo.
Learn to dive in Malta and Gozo, where else?
Limpid waters year round, with up to 30 metres visibility downwards. What else could a diver desire, other than visibility, good temperatures and a wide range of sites? The sites are so close to each other in Malta, Gozo and Comino, that experiencing different types of dives and sites, - even in one day -, is absolutely possible and a must. No doubt the richness of the underwater paradise will leave you wanting to return. There is really no excuse.
Malta Diving, diving at manageable costs.
Many dive schools offer package deals with different site type accesses and of course, adapted to skill level. All levels are available at all dive schools generally on both Malta and Gozo, expect at a few specific technical diving centres. A beginner's dive in Xlendi, for instance, can be as little as 42 € for an afternoon with bottles, instructor, insurance and gear included. Many diving centres also offer accommodation, either directly through them or their own contacts. Most dive centre websites include a section entitled "accommodation". Often this means that you can get a good overall deal on diving and accommodation at a set price. Maybe easier to plan your budget like that, no?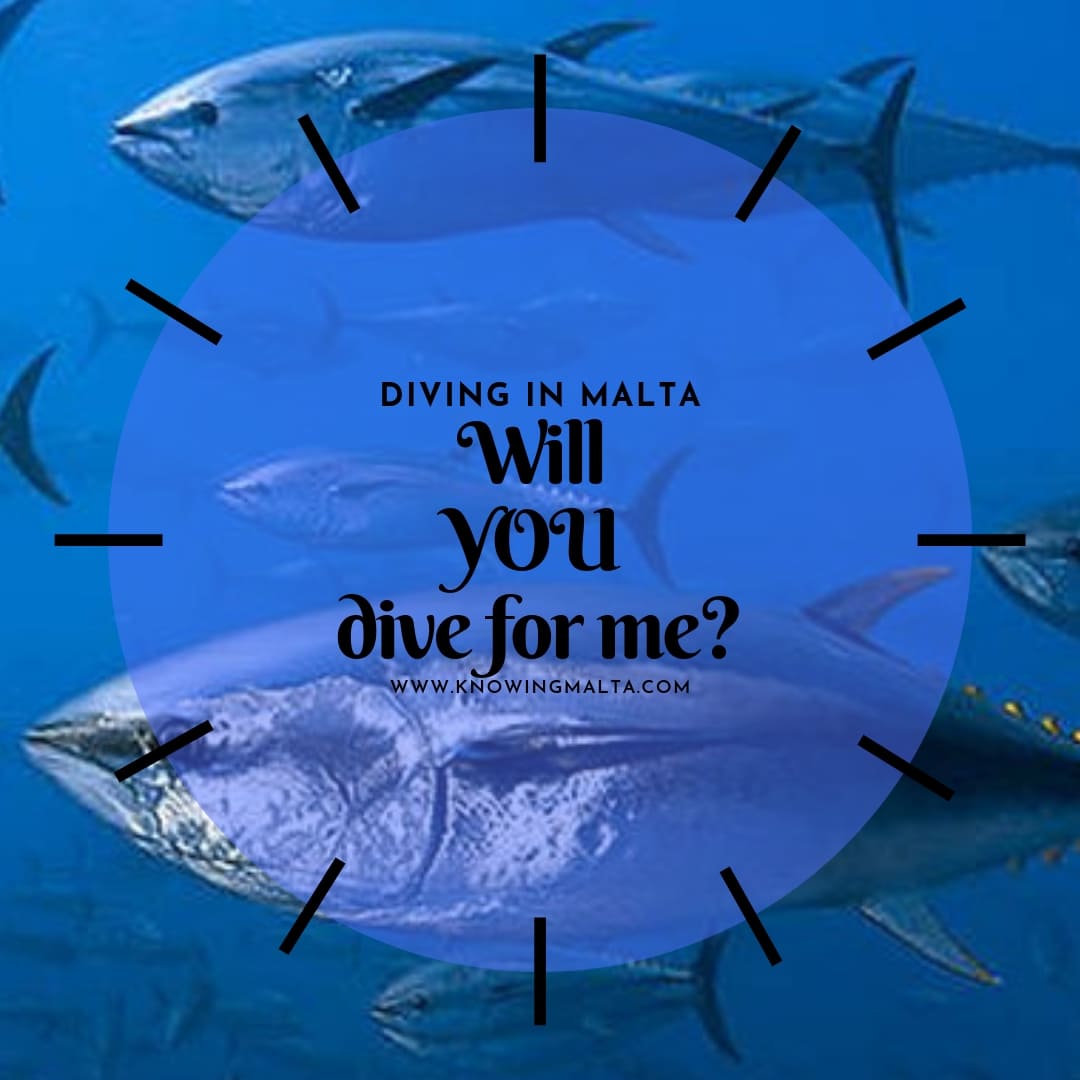 It is also noteworthy, if travelling on a shoestring, that if you don't care so much about the weather outside the sea during your stay, it might be good to come in the offseason, which is November until March. You can also find some good rental properties for your stay. Although many dive schools aren't operating, others are and that allows you to get more exclusivity from instructors, less crowded dive sites and even more underwater fauna. More about that further down.
Diving in, out of season.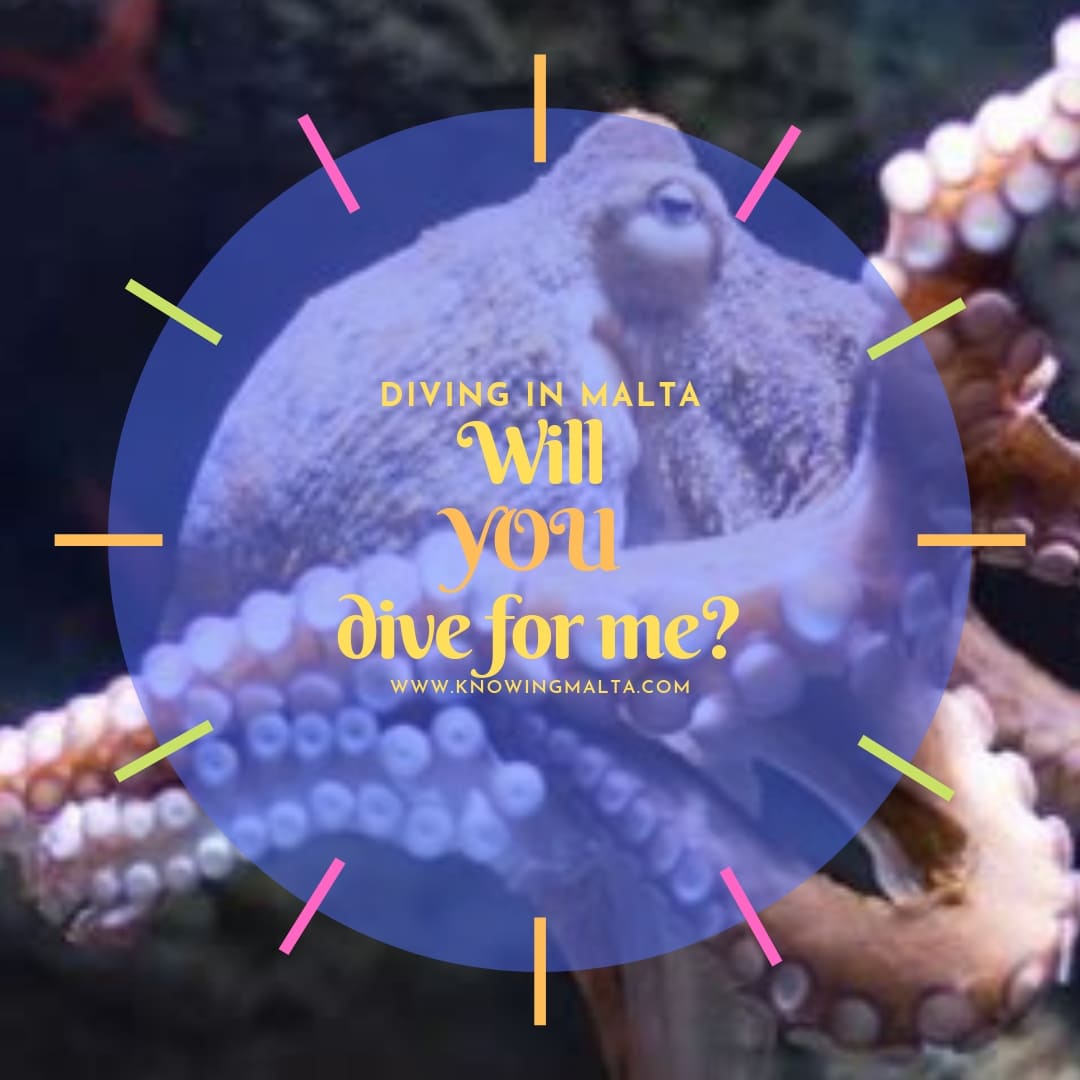 Although many dive schools close in the offseason (say November to March), others are open and even offer discounted deals on diving. The good thing is, that the number of divers is very low.
To help you decide which time is best for you to visit Malta, you may also consult our other article, about the best time to visit Malta.
In the months between June to September water can be up to 28 degrees warm but the main diving sites will most probably be busy. September and October scuba diving sites are less busy and water will still be warm.
Winter Diving in Malta, why not?
In Winter, November until March water can be as warm as 14 degrees and although there might be stormy days, there are many protected bays from which to dive in. So winter diving in Malta is absolutely possible and might be more rewarding overall.
Benefits of Winter Diving and why underwater photography is best then.
In Winter, many of the fish and other underwater inhabitants, move closer in towards the coast. As the water is warmer closer to the shore and swimmers are gone, the underwater photography fanatics will find their haven at this time of the year.

There are many endemic Maltese species and while you are down there you might get a glimpse of the following:


Atlantic Blue Fin Tuna

Squid

Barracuda

John Dory

Octopus

Blenny

Moray Eel

Scorpion Fish (highly poisonous)

Stingray
Look who's down there.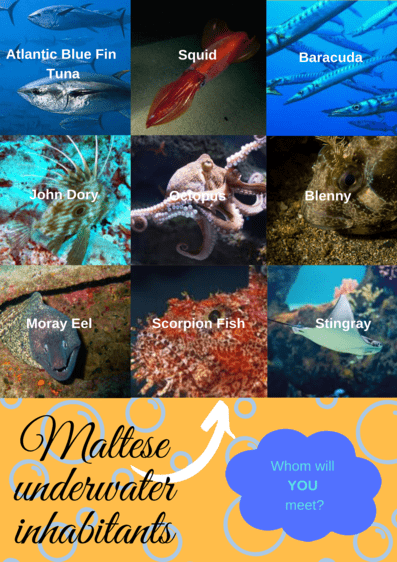 Malta and Gozo dive sites: a brief presentation
.
Between May to October, many dive centres in Malta allow up to three boat dives a day off Malta, Gozo, Comino or Cominotto. Don't miss your chance to hone in on the underwater variety which the islands can offer you.
Generally speaking, pack the following i.e. 5mm wetsuit in summer whilst 7 mm in winter with hood and gloves.
Wrecks - underwater History unveiled.
We hope that the below list will provide you with a satisfactory diving selection and overview for the most notable wrecks and underwater sites. E.g. HMS Maori off Valletta is completely penetrable for advanced divers, for beginners it can be easily circled.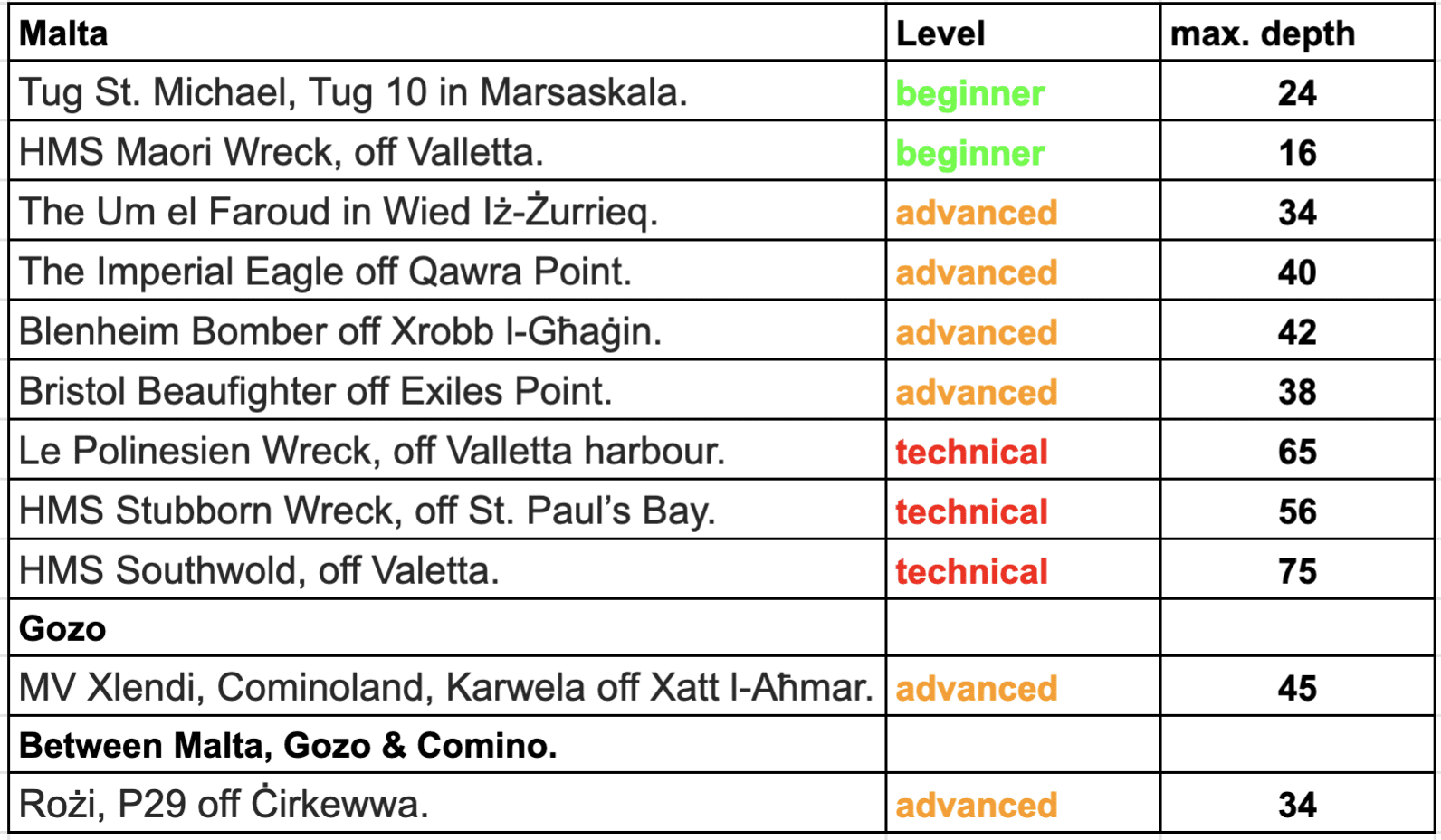 Reefs & Caverns

- beauty wherever you dive.
In the below list we have attempted to give you an overview of the must dive sites of the stunning Maltese underwater world. We hope they serve you as a good guide for planning your dives according to your levels of expertise. Note: Malta and Gozo could also be your opportunity to up your skill set. So, dare to get out there!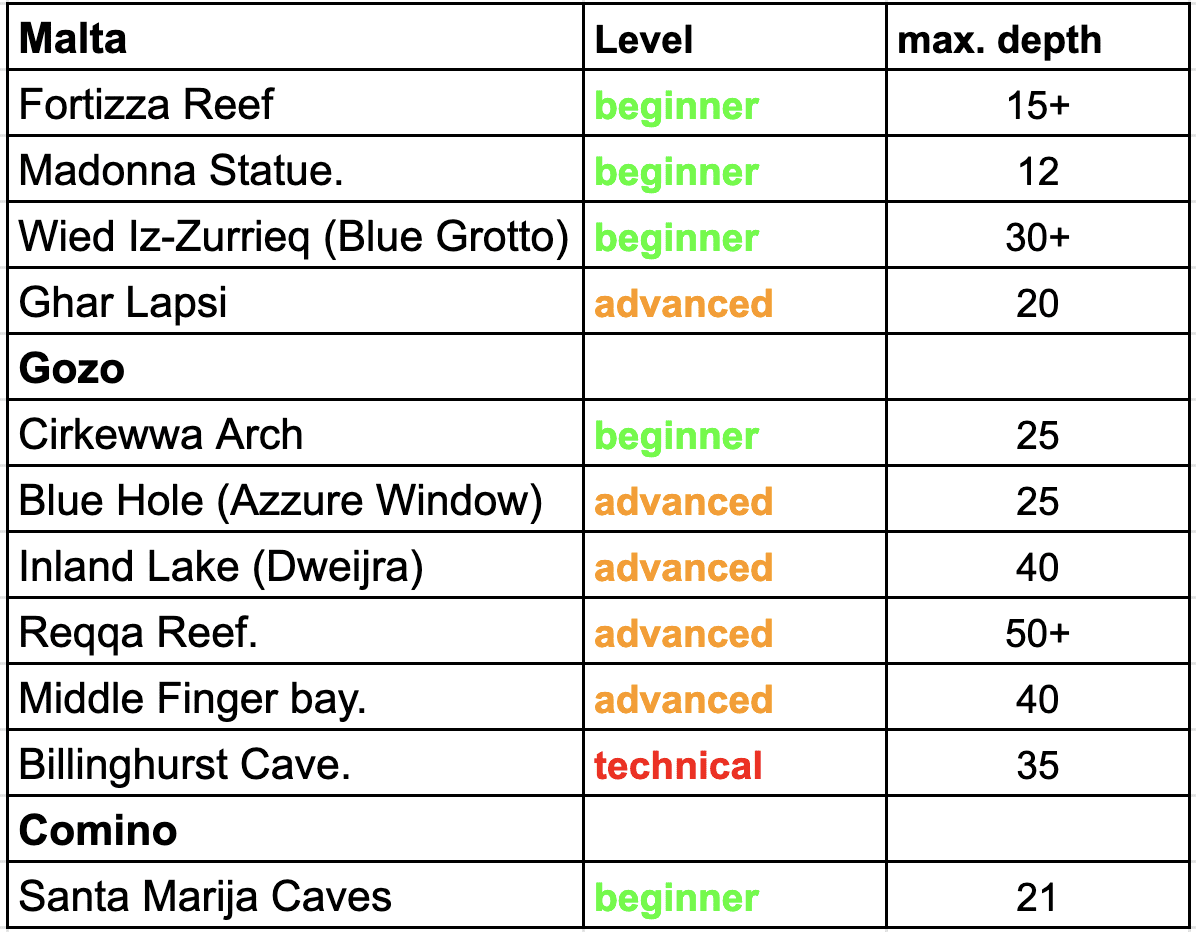 Malta and Gozo are also a paradise for free divers!
One can posit, that Malta and Gozo, are unfathomable in terms of diving visibility in Europe. That's what makes it not just a diving paradise, but also a freediving hot spot.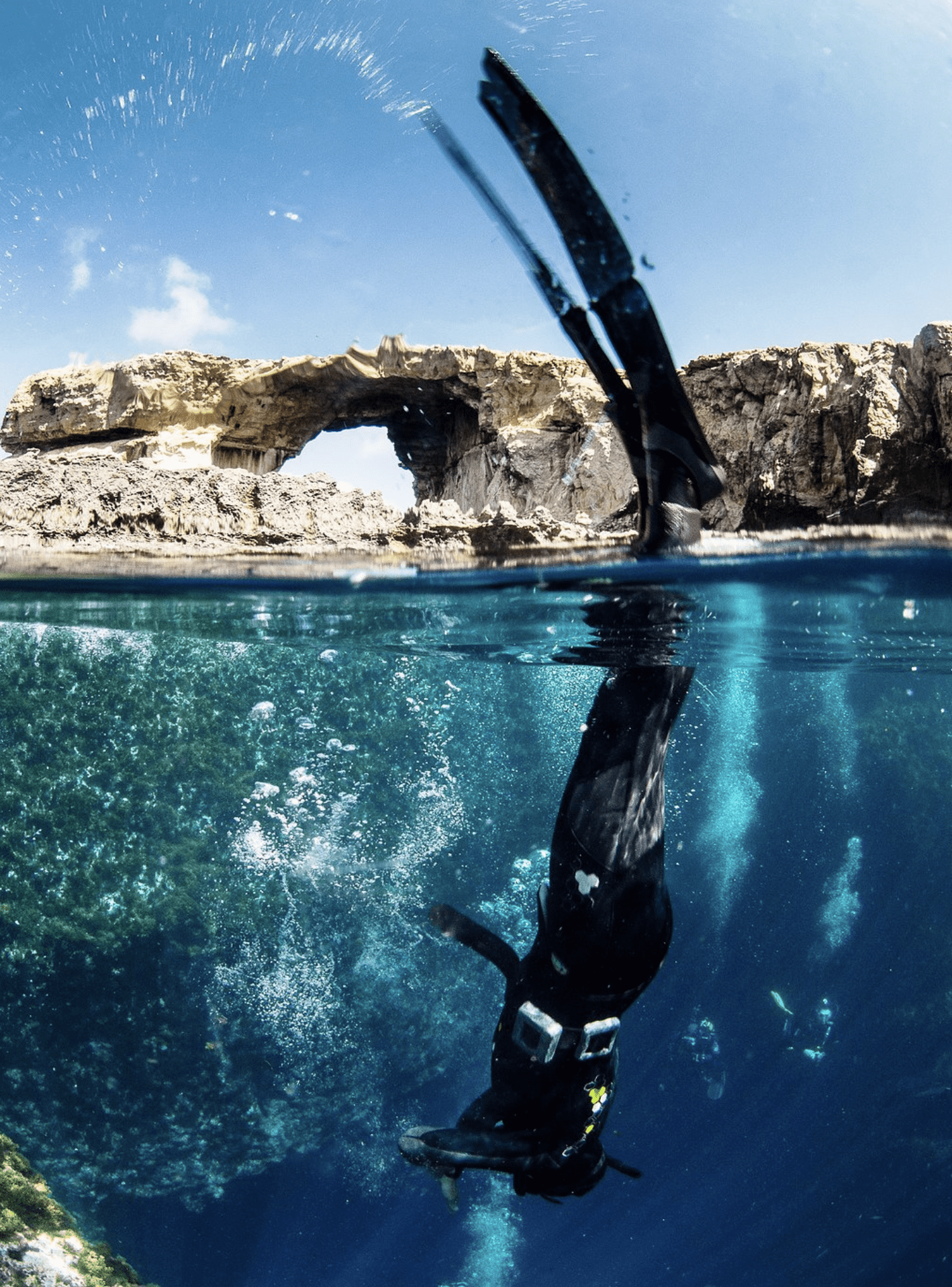 Only the best on the islands for your diving hearts.


On Gozo, we even have a world winner in free diving who lives there. He can instruct you on the Art of freediving, with his unique approach based on pranayama breaths and mindfulness. It is truly amazing, what the human body is capable of, trust me!
You currently have more than four free dive shops in Malta and Gozo, such as for instance InnerDiveMalta and demand is growing. Imagine free diving down to some of the wrecks or underground caves? All possible on the islands.
When are you diving over?
It is crystal clear to us, and we hope now for you too: Malta is your spot for diving! The conditions are pristine and the variety is large. Your diving dreams can come true in Malta.
So, go on, come scuba diving in Malta, you will not regret it!